Data Pubblicazione
May 17, 2022 8:09 AM
Interesse
Sport and nature
The sea in Calabria is a desire, a daydream that accompanies you all year round.
Feel like taking your first swim in Calabria, taking advantage of the quietness of the low season?
We give you three unmissable highlights to enjoy on your own, between May and June.
Among the 17 Calabria Blue Flags 2022 are two unmissable new entries: Isola di Capo Rizzuto (KR) and Caulonia (RC), to which we add the already award-winning beach of San Nicola Arcella (CS), just to give you an embarrassment of riches.
Isola di Capo Rizzuto - Le Castella
Rich in underwater beauty and characterised by coves of red sand, Isola di Capo Rizzuto is a pearl of Ionian Calabria, in the province of Crotone.
Declared a Protected Marine Area, the largest in Italy, with its 15,000 hectares of underwater wonders, this location offers turtle, starfish and crab sightings.
Le Castella is the small hamlet known worldwide for the iconic image of the imposing Aragonese Castle, located on a small island accessible by a narrow strip of land.
The only castle at the water's edge in Calabria, the 15th century fortress is surrounded by small beaches with shallow, sandy bottoms, ideal even for children.
After bathing, you can enjoy an aperitif in the small square in front and you can buy some handicrafts.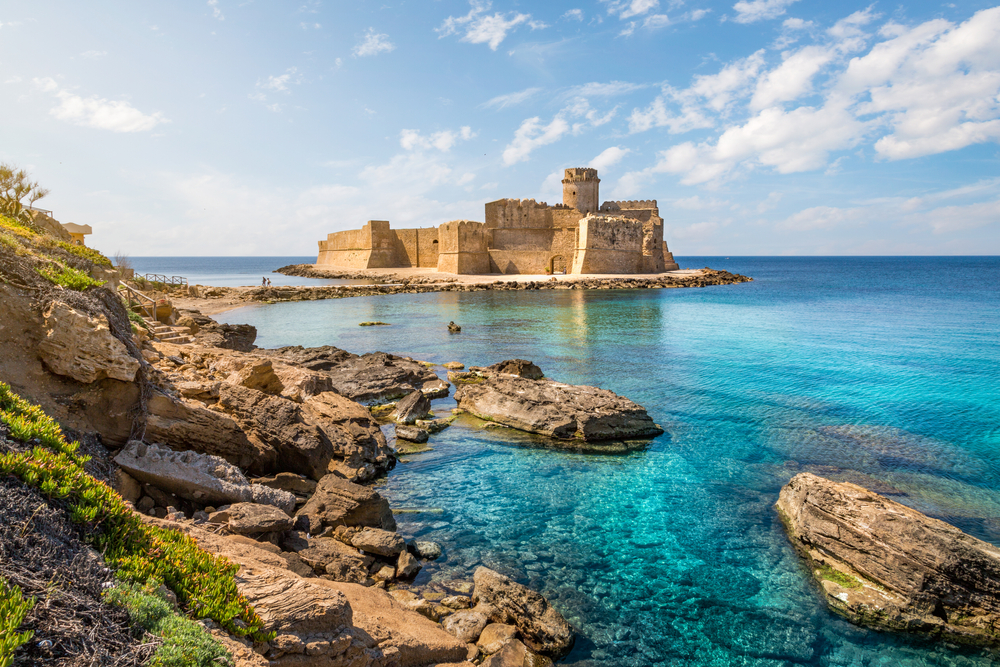 Marina of Caulonia
Another new entry among the 2022 Calabria Blue Flags, the beach of Caulonia, in the province of Reggio Calabria, it offers the peace and uncontaminated nature of the Ionian coast, characterised by typical sea dunes and the nesting of Caretta Caretta turtles.
The entrance to the beach is adorned in the colours of the Theatre of the Sea mural, which leads to an expanse of fine sand and the blue of the seabed.
After your first swim of the season, just a stone's throw from Marina of Caulonia, you can visit the archaeological remains of the Greek city at the Archaeological Park of Ancient Kaulon and the museum, with the ruins of the great temple and the evocative marine-themed mosaics.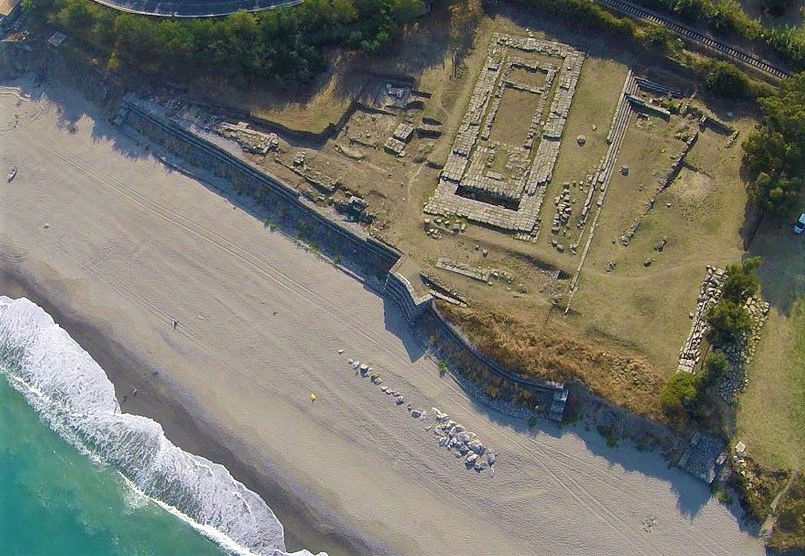 San Nicola Arcella - Arcomagno
A confirmed Blue Flag in Calabria, San Nicola Arcella is part of the Riviera dei Cedri, the Cosenza Tyrrhenian coast along which the prized Calabrian citrus fruit is grown.
Here you will find the famous Arcomagno beach, named after the majestic rock arch overlooking a small freshwater lagoon.
Reachable either on foot, via a scenic path, or by boat, the beach is also framed by a cave, formerly known as Grotta del Saraceno, the gateway to a wonder for the few.
This cosy and intimate place is perfect for a first dive in Calabria on a relaxing day.